Real-time GPS tracking is here
Real-Time Boost gives you even more flexibility to track what you want, anywhere, more accurately than ever before. This brand-new on demand real-time gps tracking mode gives you a new tool to fight against theft and loss of your vehicles, valuables, or other belongings.
Available now for all Invoxia Cellular GPS Trackers in the USA and Germany, Real-Time Boost is perfect for times when you really need to know where your vehicle or valuables are heading. With high-precision, high frequency location updates every 30 seconds, this turn-by-turn tracking mode ensures you have all the tools you need to recover stolen goods and protect your property.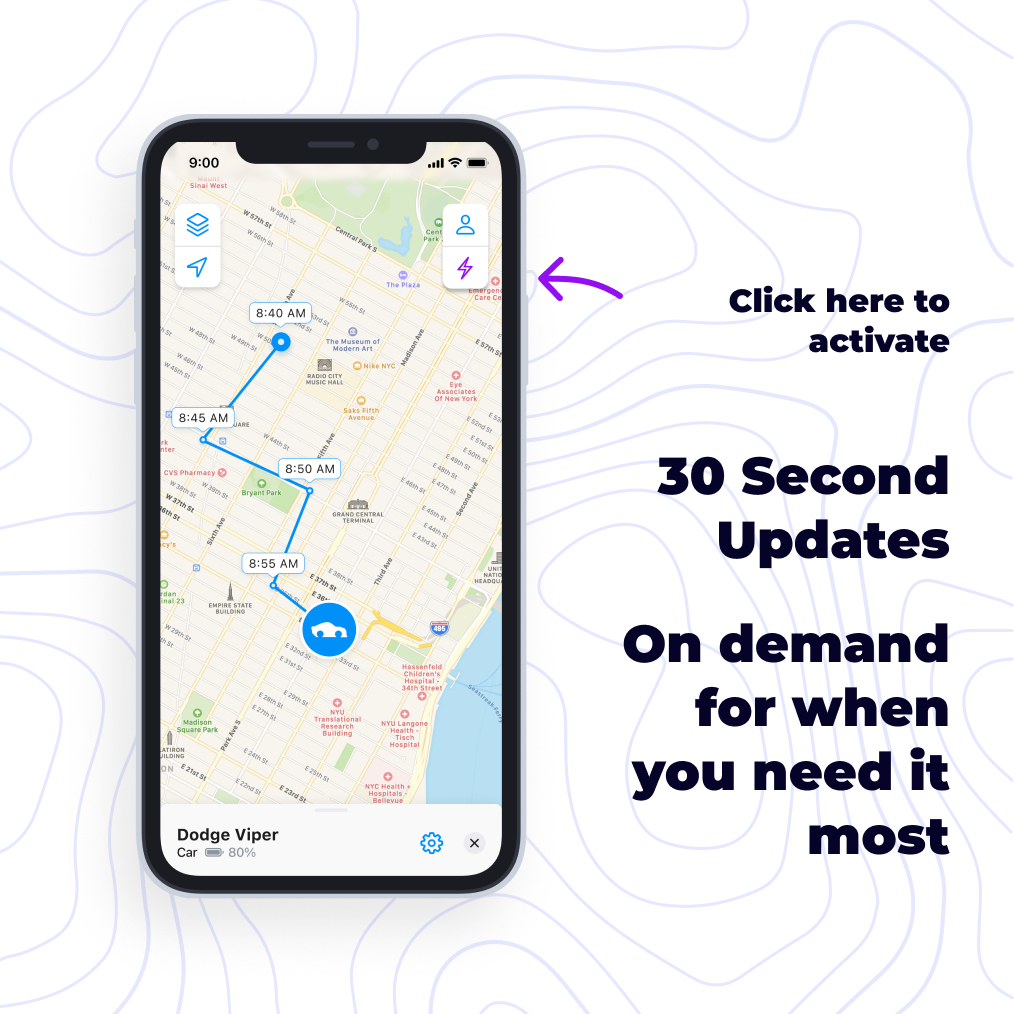 Easy activation
Real-Time Boost is always at your fingertips. In just a few clicks, get started tracking in real-time. Whether you're assisting the police tracking down your stolen vehicle, or trying to locate your young children in a busy airport this feature is for you.
Please note — In standard tracking modes, Invoxia Cellular GPS Trackers offer long battery life with updates every 5, 10, or 30 minute location updates. This makes them idea for protecting vehicles like cars, motorcycles, RVs or anything that's at risk of theft or loss. The addition of Real-Time Boost with its 30 second updates gives you yet another tool in the fight against theft.
Wondering how to get access to all the latest features?
⏰ It's time for an update
To make the most of Real-Time Boost, a quick update may be necessary.
1) Start by updating the Invoxia GPS App via the Apple App Store or Google Play Store.
2) Now you need to update the software on your tracker (a.k.a. its firmware). Follow the instructions below and you'll be done in no time!
Bring your GPS tracker close to your smartphone, and open the Invoxia GPS app.
Select your tracker from the list. When prompted, agree to the update! After a minute or so, your tracker will be updated. It couldn't be easier.
3) Real-Time Boost can now be activated from the map at any time by clicking on the new ⚡️ Lightning icon.
As always, should you have any questions about how your tracker works, check out our FAQ HERE. You'll find plenty of useful information and answers to many common questions. If you can't find what you're looking for, don't hesitate to Contact Us via the Invoxia GPS App. Our customer service team is ready and waiting to assist you!
If you don't already have an Invoxia GPS Tracker, why not get one today. Check out all the details on our online store.