Improved anti-theft alerts are here to stay.
Summer might be cooling down, but some sizzling hot features have just arrived for your Cellular GPS Tracker!
Improved anti-theft alerts are here. Our dedicated team of engineers are always hard at work bringing improvements to our range of GPS trackers. From greater stability and reliability, to new features and bug fixes, this latest update offers a whole range of useful improvements.
It might just be the best new thing since… sliced bread ?
Introducing Smart Alarm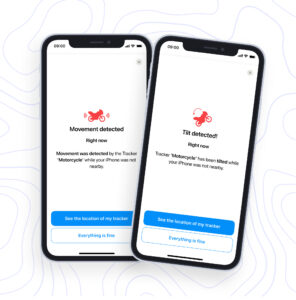 With Smart Alarm, only receive the notifications that matter. While you're with your vehicle or valuables, your tracker will no longer pester you with movement alerts. It's ideal for when you're driving a vehicle. Once you park your vehicle or leave your valuables behind, the anti-theft alerts that you rely on will be reactivated.
Theft prevention at its best
To give a concrete example of how this might be useful: If you go for a ride with the Cellular GPS Tracker installed in your motorcycle and your smartphone is with you, you won't receive any anti-theft alerts while on the road. Once you've parked your bike and you walk into the supermarket, your tracker will resume sending notifications in the event that it senses suspicious movement tilting of your bike.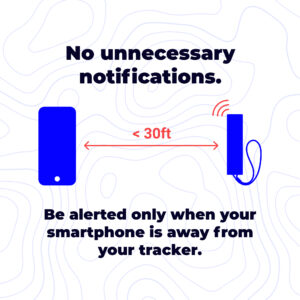 Don't worry. The Cellular GPS Tracker tracker will still continue to report its location and your complete journey history will always be accessible.
Lost Mode
Enhanced tools to aid in the recovery of stolen belongings.
Should you lose your Invoxia Cellular GPS Tracker with Smart Alarm enabled, you'll now have a new way of increasing your chances of recovery. Lost mode is great for when you urgently need to locate a lost or stolen item. When activated, Lost Mode increases the update frequency of your tracker, giving you a more precise journey history and improving the tracking accuracy.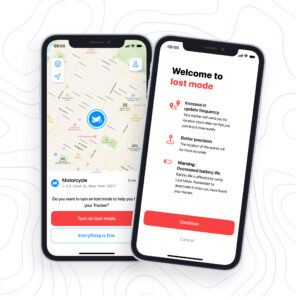 Note that these enhancements do come at the cost of battery life. This mode is not available if Smart Alarm is deactivated.
If your tracker is set to Low the update frequency will increase to every 10 minutes, on Standard every 5-6 minutes, and on High, every 2-3 minutes. These additional data points can be extremely useful when hunting down a missing vehicle or stolen belongings.
Anti-theft alerts
If you need a refresher about the Cellular GPS Tracker's anti-theft alerts, read on!
Motion Detection
If your Invoxia Cellular GPS tracker is stationary for 5 minutes or more, it will enter standby and pause its regularly scheduled tracking updates. If the tracker then detects motion (for example, someone bumps into your motorcycle or your backpack is picked up), a notification will be sent via the Invoxia GPS App letting you know.
Tilt Detection
Excellent for motorcycles or other valuables that shouldn't be tipped over, Tilt alerts are a great as they give you even more information about what's happening with your vehicle or your belongings. Tilt alerts are activated if the tracker detects a change in the tracker's orientation of more than 30°.
Are you wondering how to get access to all the latest features?
It's simple. To get access to the latest improvements and new features, you'll need to update your Tracker's firmware. Don't stress, its quick and easy. Click here to access this helpful guide we've prepared.
As always, should you have any questions about how your tracker works, check out our FAQ section HERE. You'll find plenty of useful information and answers to many common questions. If you can't find what you're looking for, don't hesitate to Contact Us via the Invoxia GPS App. Our customer service team is ready and waiting to assist you!
If you don't already have an Invoxia GPS Tracker, why not get one today. Check out all the details on our online store.